Existing-home sales continue to slide amid housing correction
Existing-home sales fell to another record low in September as the housing market continues to undergo an adjustment due to the continuous surge in interest rates, the National Association of REALTORS said Thursday.
Total existing-home sales in September declined for the eighth consecutive month, down 1.5% from August to a seasonally adjusted annual rate of 4.71 million – the slowest pace since September 2012. Sales were also lower by 23.8% compared to a year ago.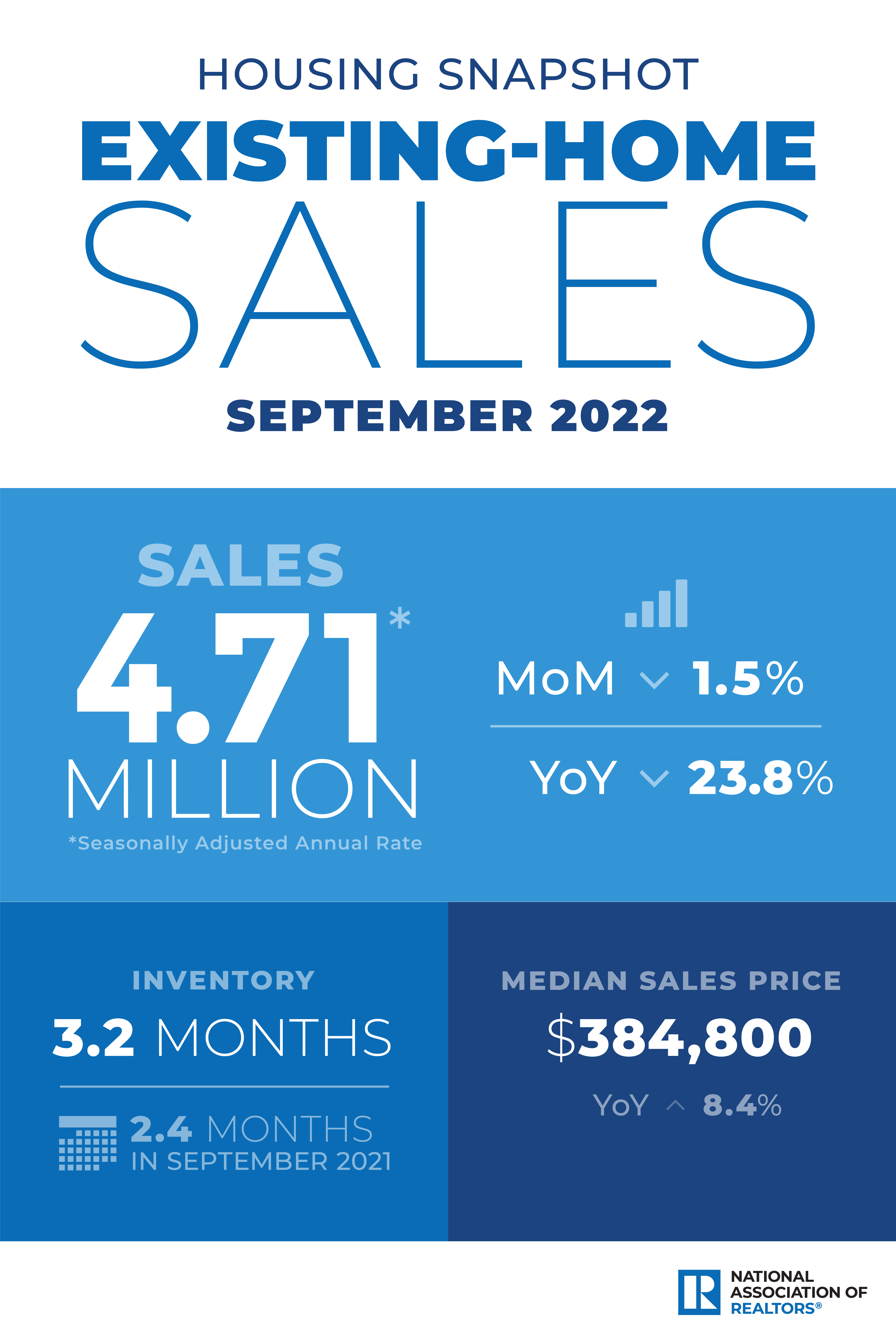 NAR chief economist Lawrence Yun said that higher mortgage rates, which eclipsed 6% for 30-year fixed mortgages in September and are now approaching 7%, have caused the slowdown in sales.
Despite weaker sales, Yun noted that some homes are still receiving multiple offers and selling above the list price due to limited supply. Total housing inventory decreased 2.3% month over month and 0.8% year over year to 1.25 million units in September. At the current sales rate, unsold inventory represents a 3.2-month supply – unchanged from August and up from 2.4 months in September 2021.
"The current lack of supply underscores the vast contrast with the previous major market downturn from 2008 to 2010 when inventory levels were four times higher than they are today," Yun said.
Properties typically remained on the market for 19 days in September, three days longer than in the previous month. Around 70% of homes sold were on the market for less than a month.
The median existing-home price for all housing types was $384,800, an 8.4% increase from last year's $335,100. While price appreciation continued in September, its pace decelerated for the third month in a row after hitting a record high of $413,800 in June.
"In addition to the greater affordability constraints for potential homebuyers, many existing homeowners likely feel 'locked-in' to their existing, lower-interest-rate mortgages," said Doug Duncan, Fannie Mae's chief economist. "This contributes to fewer homes being listed, as well as fewer potential buyers, and may lead to a growing share of listings having to cut prices to meet the reduced demand.
"Furthermore, the supply of completed, new single-family homes for sale has started to rise, suggesting that homebuilders may also need to begin offering greater price concessions to move inventory. We expect these trends to continue in the coming months."