Treasure Coast 9-11 Remembrance Ceremonies This Weekend
The City of Port St. Lucie invites the public to join us for our annual 9/11 Remembrance Ceremony. Marking the 21st anniversary since the attacks on our great nation, this ceremony will honor and remember the lives lost and forever impacted on Sept. 11, 2001.
The Port St. Lucie Police Department, St. Lucie County Sheriff's Office and St. Lucie County Fire District will assist with the ceremonies, with a special invocation by Chaplain Alice Delannoy, Port St. Lucie Police Department.
The ceremony will begin at 8:30 a.m. Sunday, Sept. 11, 2022, adjacent to the 9/11 monument at the MIDFLORIDA Event Center. Guests will be invited inside the Event Center following the ceremony for light refreshments. Those unable to attend in person are encouraged to watch live on the City's Facebook Page.
We ask the members of our community to join us as we reflect, honor and remember our fallen neighbors, friends and loved ones lost on that fateful September day.
Learn more.
https://www.cityofpsl.com/…/Calendar/Event/13875/1944…
****************************************
The City of Fort Pierce will hold a virtual memorial service to honor CeeCee Ross Lyles who perished on Flight 93 when it crashed in a Pennsylvania field during the September 11, 2001, terrorist attacks.
The virtual memorial service will be hosted live through the City's Facebook page, Sunday, September 11, 2022, at 9:30 AM. There will be a presentation of a wreath-laying and will have a moment of silence at Lyles' dedicated statue located at the Liberty Garden. The public may tune in live at https://www.facebook.com/ftpierce/ to witness this virtual ceremony.
A life-sized bronze statue of the Fort Pierce native overlooks the Indian River. Born and raised in Fort Pierce, Lyles attended Fort Pierce Westwood High School and later served six years as a Fort Pierce Police Officer. In 2000, she moved to Fort Myers to pursue her dream of being a flight attendant.
This event open to the public and will be aired live on Facebook.
For more information, please call 772.467.3031 or visit: http://www.cityoffortpierce.com
****************************************

Date: Sunday September 11, 2022
Time: 7:00 pm – 8:30 pm
Location: Cummings Library
Address: 2551 SW Matheson Ave Palm City FL
Price: Free
Category: Community
Annual 9/11 tribute and candlelight vigil in memory of all who were affected. Patriotic music, guest speakers, wreath laying.
****************************************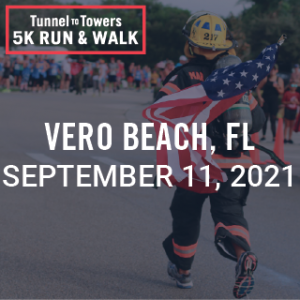 Born from the tragedy of 9/11, the Tunnel to Towers Foundation carries forward a legacy of courage and heroism. Built upon the mantra, "While we have time, LET US DO GOOD," the Foundation supports our nation's fallen and catastrophically injured first responders, military heroes and their families.
Please join us in supporting the Tunnel to Towers Foundation and America's heroes by making a donation through this page. The process is fast, easy and secure. Thanks so much for your support, and please don't forget to send this page to anyone you think might be interested in donating!
Tunnel To Towers 9/11 5K Run/Walk
Proceeds from the 5K benefit first responders. For more information, click here.
When: 7:30 a.m.
Where: Riverside Park, 3280 Riverside Park Dr., Vero Beach
Price: Free, donations welcome here